Helping a friend who discloses they are a survivor
Most often, the first person a survivor discloses their assault or abuse to is someone close to them. Here are some tips on how to help a survivor who discloses to you.
Practice active listening. Empower survivors by letting them talk about their experience. Survivors of assault and abuse have had their agency and control taken away from them. Giving them a safe space to articulate their own feelings will help them reclaim some power.

Tell them it is not their fault. Survivors of abuse and assault often feel ashamed, alone, and that they are to blame for their own abuse. Reminding them that the abuse was not their fault will help to mitigate the shame and self-blame the survivor may be feeling. This will also assist in their healing process.

Ask them how you can help. Allow the survivor to decide what actions will be most helpful for them and their unique experience. As support people, we may feel the need to take immediate action to help the survivor; however, it is important to let them be in charge. Ask them how you can help, and believe that they are the expert in their own needs. They may feel overwhelmed and confused, you can help them to understand their priorities and go from there.  

Provide them with resources. UC Davis has many resources to help community members address these issues as they come up. Inform survivors of the available resources to help establish multiple systems of support.

Do not investigate. Investigating allegations of sexual violence is the responsibility of law enforcement and the campus Title IX office.  By conducting your own investigation, you may compromise any potential formal investigations that take place later. Additionally, you can prioritize your individual safety by staying out of any fact-finding activities.

Take care of yourself. Sexual violence impacts us all and it can be very difficult to see people we care about harmed in this way. Make sure you utilize resources to process any lingering emotions and engage in self-care activities.
Be a UC Davis Upstander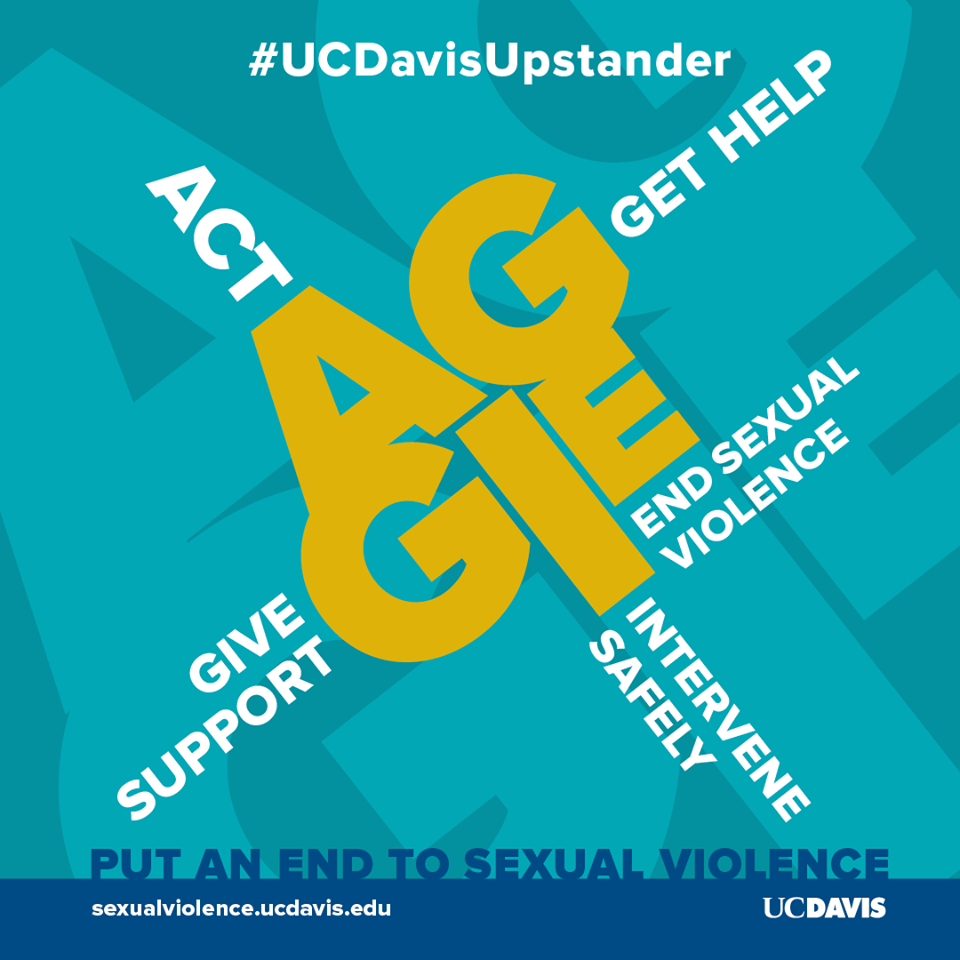 You may witness a high risk situation that places someone in danger. Remember that you have the power to intervene and help someone.
When presented with a situation that looks like it requires your assistance, keep the following questions in mind:
Could I play a role here?

If no one intervenes, what will happen?

What are my options?

What are the risks?

Is someone else better placed to respond? Who?
Speaking out against harmful speech is another way to engage in bystander intervention. Challenge statements that promote victim-blaming, rape culture, or sexism. By starting small and intentional, you can take one step closer toward ending sexual violence.
One common reason why people do not engage in bystander intervention stems from not knowing what to do. To overcome this challenge, it might be helpful to have a strategy in place so that you are better prepared to handle a situation if and when it comes up. To learn more about bystander intervention strategies, you may request a CARE program. Please see the "Request a Program" page for more information. 
Assisting survivors in your role as a UC Davis Responsible Employee
All UC Davis staff and faculty who are not employed at any of the designated confidential resources on campus are responsible employees per the UC Davis Policy Sexual Violence and Sexual Harassment Policy. Responsible Employees are required to report any information they receive about a student experiencing sexual harassment or sexual violence. Some employees, including managers, supervisors, faculty members, HR professionals, and academic personnel, are also responsible employees for staff and faculty disclosures of sexual harassment and sexual violence.  Responsible employees are obligated to notify the campus Title IX office when they become aware, in the course of their employment, of a student (or, depending on their position, staff or faculty) who has experienced sexual violence or sexual harassment.
If a student discloses to you that they have experienced sexual violence or harassment, it is important to let them know about your role as a responsible employee and get them connected to the appropriate resources.
Here is some sample language you can use to help navigate these situations:
"I would love to help, but before you tell me specific information, you should know I am obligated to report sexual harassment or sexual violence to the University."
"You can speak to a confidential resource, if you'd like. They're not tied to the same obligation and do not have to report. I can help you get connected to CARE. Would you like to call an advocate together?"
You can access the UC Davis Compliance Responsible Employee Handout here.