History of Domestic Violence Awareness Month
Domestic Violence Awareness Month (DVAM) evolved from the "Day of Unity" in October of 1981, originally observed by the National Coalition Against Domestic Violence. The intention of DVAM is to bring advocates for awareness and prevention together from across the nation to bring attention to the issue of domestic violence. 
In October of 1987, the first Domestic Violence Awareness Month was observed, followed shortly by the congressional designation of October as the National Domestic Violence Awareness Month in 1989. 
Intimate Partner Violence (IPV)  refers to the patterns of abusive behaviors based on power and control within an intimate relationship. It is important to note that IPV occurs across age, ethnic, and socioeconomic lines, and all types of relationships. 
To learn more about domestic violence and intimate partner violence, click this link.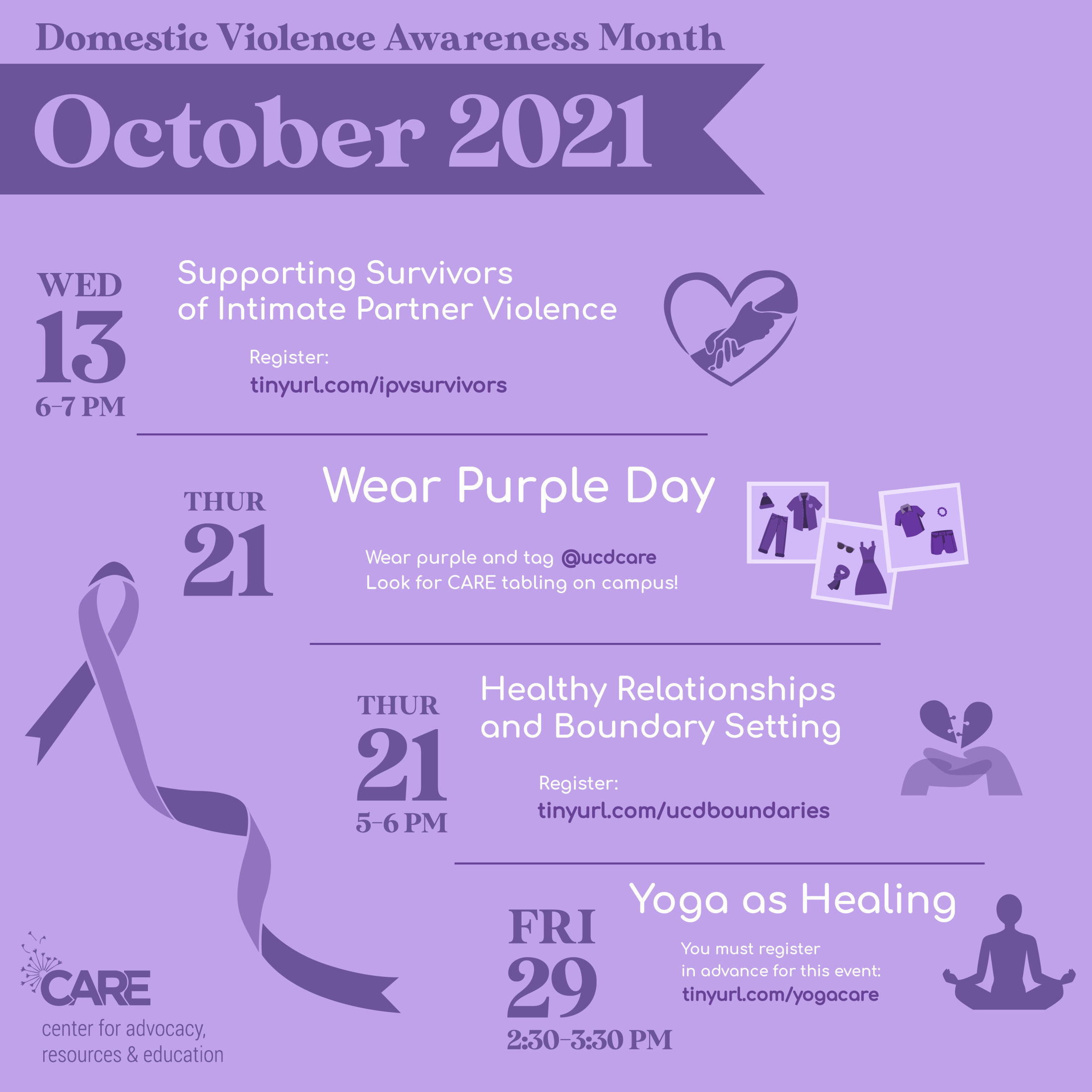 Supporting Survivors of Intimate Partner Violence
Wednesday, Oct 13th 
6-7 PM
This program educates participants on the dynamics of abusive relationships so that participants can learn how they can support a loved one who may be experiencing intimate partner violence.
Register: tinyurl.com/ipvsurvivors
Healthy Relationships & Boundary Setting
Thursday, Oct 21st 
5-6 PM
Join us for this interactive workshop on boundary setting as an important aspect of healthy relationships. This workshop will cover: what are different types of boundaries, how to identify your boundaries, and setting boundaries with your partner(s).
Register: tinyurl.com/ucdboundaries
Yoga As Healing
Friday, October 29th
2:30-3:30 PM
Please join us for this FREE Yoga as Healing session being offered as a part of Domestic Violence Awareness Month. Yoga as Healing is open to UC Davis students, including undergraduate, graduate, and professional students. Survivors of all genders are welcomed, no prior yoga experience is necessary.
We recommend you bring your own yoga mat or towel, however, we will have a limited supply for attendees who do not have one they can bring.
You must register in advance for this event: tinyurl.com/yogacare